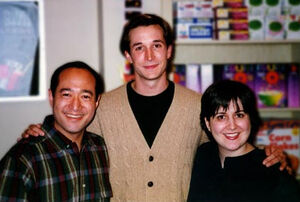 Noah Wyle (b. 1971) is a TV and film actor, who is probably best known for his role as Dr. Carter on ER. He appeared in a 1996 episode of Sesame Street, playing a doctor who helps Gabi deal with the fears she has when her mother goes into the hospital for surgery. Later, he appeared with Big Bird in his nest in a celebrity version of "Sing". (First: Episode 3851)
Wyle spoke to Empire magazine about his favorite Muppet: "When I was on Sesame Street, I got along well with Big Bird. He plucked out two of his tail feathers. I have them pressed in a book at home."[1]
External links
Sources
↑ Empire issue 272 "Stars Reveal Their Favourite Muppets" February 2012
Ad blocker interference detected!
Wikia is a free-to-use site that makes money from advertising. We have a modified experience for viewers using ad blockers

Wikia is not accessible if you've made further modifications. Remove the custom ad blocker rule(s) and the page will load as expected.