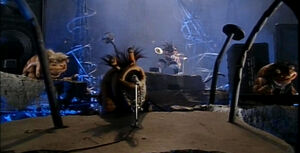 The Nine Inch Snails, a spoof of the band Nine Inch Nails, appeared on episode 206 of Muppets Tonight.
Two of the snails appeared in A Muppets Christmas: Letters to Santa as mail carriers. They were cut out of the aired version, but do appear in the extended DVD version and in the deleted scenes. They were played by Martin P. Robinson and Tyler Bunch. Gonzo calls one of them Kevin.
See also
Ad blocker interference detected!
Wikia is a free-to-use site that makes money from advertising. We have a modified experience for viewers using ad blockers

Wikia is not accessible if you've made further modifications. Remove the custom ad blocker rule(s) and the page will load as expected.