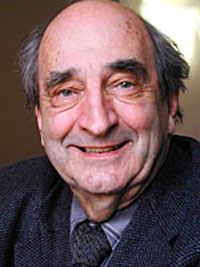 Nils Eklund (b. January 17, 1927) played Pompom on Svenska Sesam, the Swedish co-production of Sesame Street. His full name is Nils Ernst Gustaf Eklund.
Eklund's parents were actors, but he initially decided not to follow in their footsteps and went to trade school. Around the age of nineteen, he was on a tour with his parents, where he made his stage debut. He subsequently began taking private acting lessons. He got a job at Helsingborgs city theater. In the 1950s, he was employed at Malmö theater, which was managed by Ingmar Bergman. Since then, he has performed with different theater troupes around Sweden.
Besides his substantial list of movie and TV credits, Eklund has dubbed many cartoons, including the Disney movies Bambi, Lady and the Tramp, Aladdin, and others.
External links
Ad blocker interference detected!
Wikia is a free-to-use site that makes money from advertising. We have a modified experience for viewers using ad blockers

Wikia is not accessible if you've made further modifications. Remove the custom ad blocker rule(s) and the page will load as expected.