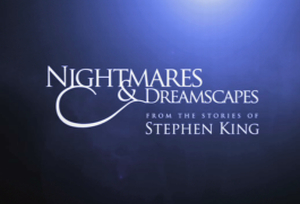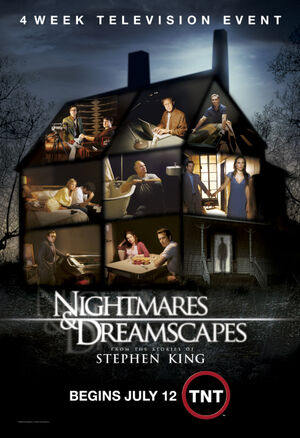 Nightmares & Dreamscapes is a television anthology which aired on the TNT network in July 2006. Eight one-hour episodes were adapted from the stories of horror novelist Stephen King, airing in two hour blocks over four nights. The first episode, "Battleground," was directed by Brian Henson.
"Battleground" focuses on an assassin who suffers an ironic revenge, and includes no spoken dialogue. It featured elaborate make-up effects for a group of living toy soldiers. This was supplied by Lee Romaire, a former Jim Henson's Creature Shop sculptor. The Creature Shop itself supplied digital enhancements for the scenes. As with the Lilliputians in Gulliver's Travels, the soldier performers were shot against a blue screen, and then digitally composited and enhanced to appear miniature. Though unbilled, Bill Barretta was cast as the most prominent toy, the Rambo-like Savage Commando; Barretta wore a full facial-prosthetic patterned after his own features.
Battleground
Credits
Directed by Brian Henson
Written by Richard Christian Matheson
Based on the short story by Stephen King
Digital Character Animation by Jim Henson's Creature Shop
Special Make-up Effects Designer, Los Angeles Unit: Lee Romaire
Costume Designer, Los Angeles Unit: Karen Mason
Cast
William Hurt as Jason Renshaw
Bruce Spence as Hans Morris
Mia Sara as Beautiful Passenger
Kristy Vendy as Front Desk Clerk
Lydia Kinkade as CNN Anchor
Enrico Mammarella as Guard #1
Brad McMurray as Guard #2
Jackie Kelleher as Hans Morris' Mother
Bill Barretta as the Savage Commando
Gallery
Connections
Ad blocker interference detected!
Wikia is a free-to-use site that makes money from advertising. We have a modified experience for viewers using ad blockers

Wikia is not accessible if you've made further modifications. Remove the custom ad blocker rule(s) and the page will load as expected.