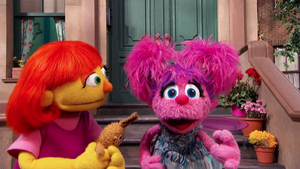 Night of Too Many Stars: America Unites for Autism Programs is a television special hosted by Jon Stewart that aired on HBO on November 18, 2017. The event brought together celebrities and comedians in an effort to raise money and awareness to benefit programs and resources for individuals and families living with autism.
The Night of Too Many Stars is a biannual event created by Robert Smigel. The Emmy-winning series aired six specials on Comedy Central between 2003 to 2015 before moving to HBO in 2017.
Abby Cadabby and Julia appeared during the 2017 special in a pre-taped message from the Sesame Street set.
Other guests in the 2017 special included Stephen Colbert, John Oliver, Ilana Glazer, Samantha Bee, Adam Sandler, Billy Crystal, Sarah Silverman, Lin-Manuel Miranda, Rob Corddry, Robert De Niro, Edie Falco, Chris Jackson, Howie Mandel, Chris Rock, The Roots, Andy Samberg, and Ben Stiller.
See also
External links