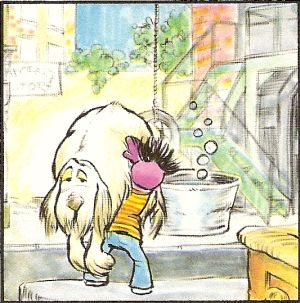 Night Train is Roosevelt Franklin's dog. He appears in The Sesame Street Library Volume 2, in the one-page story "Roosevelt Franklin Washes His Dog." Roosevelt struggles to heft the large, uncooperative canine in the tub, and ends up dousing himself in the process.
The character is named for an instrumental R&B standard famously recorded by James Brown in the 1960s.
See also
Ad blocker interference detected!
Wikia is a free-to-use site that makes money from advertising. We have a modified experience for viewers using ad blockers

Wikia is not accessible if you've made further modifications. Remove the custom ad blocker rule(s) and the page will load as expected.