Ad blocker interference detected!
Wikia is a free-to-use site that makes money from advertising. We have a modified experience for viewers using ad blockers

Wikia is not accessible if you've made further modifications. Remove the custom ad blocker rule(s) and the page will load as expected.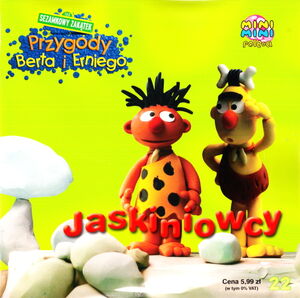 Niezwykłe przygody Berta i Erniego (The extraordinary adventures of Bert and Ernie) is the Polish dub of the international co-production Bert and Ernie's Great Adventures.
The show premiered on November 25, 2008 on the kids' cable channel MiniMini, as part of the hour-long daily Sezamkowy Zakątek programming block. The segment replaced Sesame English in the Sezamkowy block. As of 2010, the segment is still running on MiniMini.
The Polish dub is directed by Paweł Galia, with Anna Niedźwiecka-Medek writing the Polish dialogue.
Voices
Episodes
| Episode number | Polish Title | English Title | First air date |
| --- | --- | --- | --- |
| 1 | Piraci | Pirates | Nov. 25, 2008 |
| 2 | Małe miasto | Tiny Town | Nov. 26, 2008 |
| 3 | Nurkowie | Deep Sea | Nov. 27, 2008 |
| 4 | Planeta Bert | Planet Bert | Nov. 28, 2008 |
| 5 | Wynalazcy | Inventors | Nov. 29, 2008 |
| 6 | Gołębnia | Pigeonia | Nov. 30, 2008 |
| 7 | Jaskiniowcy | Cavemen | Dec. 1, 2008 |
| 8 | Tajni agenci | Secret Agents | Dec. 2, 2008 |
| 9 | Wspinaczka górska | Mountain Climbers | Dec. 3, 2008 |
| 10 | Super bohaterowie | Heroes | Dec. 4, 2008 |
| 11 | Dziki Zachód | Wild West | Dec. 5, 2008 |
| 12 | Rycerze | Knights | Dec. 6, 2008 |
| 13 | Pingwin | Penguin | Dec. 7, 2008 |
| 14 | Niewidzialni | Invisible | Dec. 8, 2008 |
| 15 | Gracze na pianinie | Piano Movers | Dec. 9, 2008 |
| 16 | Strażnicy muzeum | Museum Guards | Dec. 10, 2008 |
| 17 | Ernlock Holmes | Ernlock Holmes | Dec. 11, 2008 |
| 18 | Las deszczowy | Rainforest | Dec. 12, 2008 |
| 19 | Piekarze | Bakers | Dec. 13, 2008 |
| 20 | Rodeo | Rodeo | Dec. 14, 2008 |
| 21 | Czarodzieje | Wizards | Dec. 15, 2008 |
| 22 | Fryzjerzy | Cliptecs | Dec. 16, 2008 |
| 23 | Trzy życzenia | Three Wishes | Dec. 17, 2008 |
| 24 | Kung Fu | Kung Fu | Dec. 18, 2008 |
| 25 | Gladiatorzy | Chariot | Dec. 19, 2008 |
| 26 | Plaża | Beach | Dec. 20, 2008 |
External links