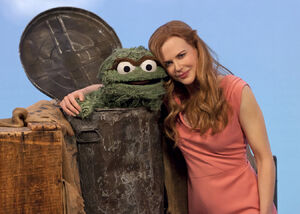 Nicole Mary Kidman (b. 1967) is an Academy Award winning Australian actress whose credits include the feature films Batman Forever, Moulin Rouge!, The Hours and Cold Mountain.
Kidman appeared on Sesame Street to explain the word "stubborn" with Oscar the Grouch in a Season 42 Word of the Day segment.
Among her other credits are Days of Thunder, Eyes Wide Shut and Far and Away (all with Tom Cruise), Nine (directed by Rob Marshall), The Stepford Wives and an un-billed cameo in Shine.
External links
Ad blocker interference detected!
Wikia is a free-to-use site that makes money from advertising. We have a modified experience for viewers using ad blockers

Wikia is not accessible if you've made further modifications. Remove the custom ad blocker rule(s) and the page will load as expected.