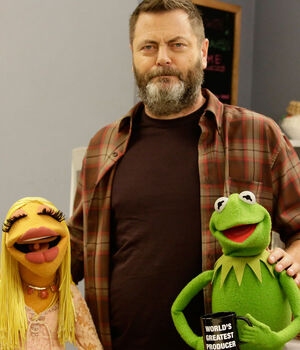 Nick Offerman (b. 1970) is an American actor, writer, and carpenter widely known for his role as Ron Swanson on the NBC sitcom Parks and Recreation (with Amy Poehler, Aziz Ansari, Adam Scott, and Rashida Jones).
In 2014, Offerman appeared in "W-ORD Channel 7 News with John Oliver & Cookie Monster," a video distributed by Mashable in support of Sesame Workshop's "Words Are Here, There, and Everywhere" initiative. His real-life wife Megan Mullally provided the off-camera voice of his wife in the video.
Offerman guest starred as himself in The Muppets episode "Bear Left Then Bear Write."
Ad blocker interference detected!
Wikia is a free-to-use site that makes money from advertising. We have a modified experience for viewers using ad blockers

Wikia is not accessible if you've made further modifications. Remove the custom ad blocker rule(s) and the page will load as expected.