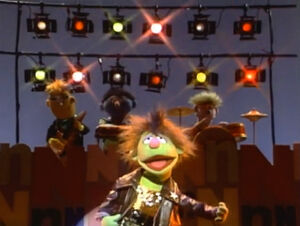 Nick Normal and the Nickmatics are a hard rock band who performed "The Letter N" on Sesame Street in the 1980s. Their music video was introduced by Nora Nicks, the host of NTV.
The group consisted of lead singer Nick Normal, a Pumpkin guitarist, a Fat Blue keyboardist and a Lavender drummer. While the Nickmatics were generic Anything Muppet band members, Nick Normal bore resemblence to Sid Vicious.
Ad blocker interference detected!
Wikia is a free-to-use site that makes money from advertising. We have a modified experience for viewers using ad blockers

Wikia is not accessible if you've made further modifications. Remove the custom ad blocker rule(s) and the page will load as expected.