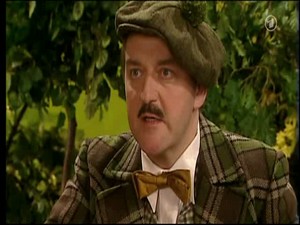 Nick Knitterton is a famous detective, he came to visit his old friend Ella in Sesamstrasse episode 2295.
When Nick arrived at Ella's he quickly notice that something seems to be missing from the table. He bumps into detective Wolle and they agree to solve the case of the missing cake together.
Nick Knitterton are a spoof of the German comic detective series of Nick Knatterton.
Ad blocker interference detected!
Wikia is a free-to-use site that makes money from advertising. We have a modified experience for viewers using ad blockers

Wikia is not accessible if you've made further modifications. Remove the custom ad blocker rule(s) and the page will load as expected.