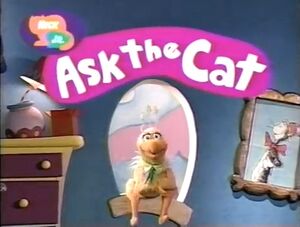 During the second season of The Wubbulous World of Dr. Seuss on Nick Jr, a promo segment called Nick Jr's Ask the Cat has a kid ask a question to The Cat in the Hat.
Promos
A boy ask "What is inside the Cat in the Hat's Hat" and the Cat in the Hat shows him the unusual things in it.
A girl ask "How many stories does he know" and Terrence McBird replies that the Cat in the Hat knows a lot.
A girl ask about the Little Cats and the Cat in the Hat introduce her to Little Cats A, B, C, and Z.
Ad blocker interference detected!
Wikia is a free-to-use site that makes money from advertising. We have a modified experience for viewers using ad blockers

Wikia is not accessible if you've made further modifications. Remove the custom ad blocker rule(s) and the page will load as expected.