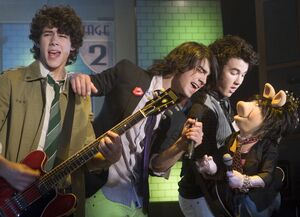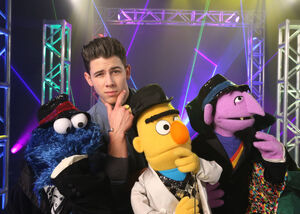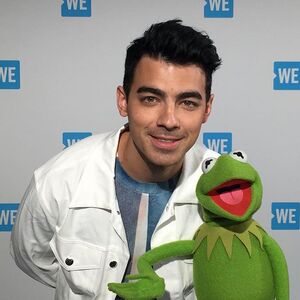 Kevin, Joe, and Nick Jonas, known collectively as Jonas Brothers, are a New Jersey-based boy band who gained national attention in 2006 under the Columbia Records label. Miss Piggy performs "That's Just the Way We Roll" with the Brothers in the television special Studio DC Hosted by Dylan and Cole Sprouse.
Nick Jonas began the band as a solo artist after appearing in such Broadway musicals as Annie Get Your Gun, Beauty and the Beast, and A Christmas Carol, but record executives soon signed all three brothers as a group act.
The Brothers have toured with Jesse McCartney, the Backstreet Boys, and Miley Cyrus. Television appearances include Hannah Montana, Macy's Thanksgiving Day Parade, Dick Clark's New Year's Rockin' Eve 2008, and the Disney Channel original movie Camp Rock.
In April 2011 Nick Jonas performed at Joining Forces, a special event to help kick off the Sesame Street/USO Experience for Military Families, hosted by First Lady Michelle Obama and Dr. Jill Biden, with additional performances by walk-around Sesame characters in Columbus, Ohio. (YouTube)
In May 2015, Nick Jonas appeared in a video segment with Murray Monster, posted on the Sesame Street Facebook page. The theme of the segment was family, for #DayofFamilies, based on the United Nations International Day of Families.[1] He appeared in a 2016 episode of Sesame Street, performing "Check That Shape" with the Muppets.
In 2016, Joe Jonas participated with the Muppets on the WE Day event in California.
External links