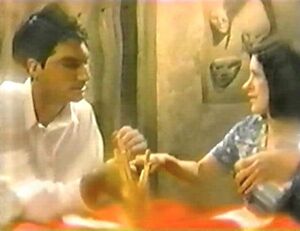 Nick Constantino (ca. 1962-2013) was a model who appeared in the Aliens in the Family episode "A Very Brody Tweeznax" as Enrico, who romances Sally in her daydreams.
Constantino was a busy male model in the eighties and nineties, in print and television ads and catalogues for fashion, fragrance, grooming products, and the like. He was paired with Julia Anderson in a campaign for Estée Lauder and with Claudia Schiffer for Guess, andfrequently appeared in GQ magazine.
External links
Ad blocker interference detected!
Wikia is a free-to-use site that makes money from advertising. We have a modified experience for viewers using ad blockers

Wikia is not accessible if you've made further modifications. Remove the custom ad blocker rule(s) and the page will load as expected.