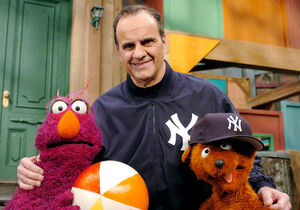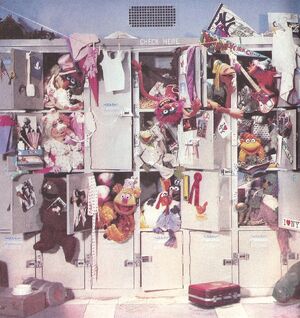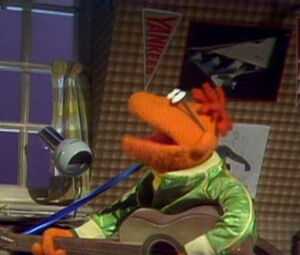 The New York Yankees are a professional Baseball team, based in the New York City borough of the Bronx. A member of the Major League Baseball's American League, the club was originally founded in Baltimore, Maryland in 1901, and moved to New York City in 1903 (where they were renamed the Yankees in 1913). From 1923 to 2008 the Yankees played in Yankee Stadium, which was replaced with the new Yankee Stadium in 2009.
In the New York area, their games are available on the Yankees Entertainment and Sports Network.
Yankees players that have appeared with the Muppets include Hideki Matsui and Dave Winfield, as well as former manager Joe Torre. Elmo appeared at an exhibition game between the New York Yankees and the Yomiuri Giants at the Tokyo Dome on March 28, 2004.
References
In The Great Muppet Caper, Lady Holiday, reviewing her models before the fashion show, suggests to one of them "try wearing lingerie under the frock instead of the New York Yankees T-Shirt."
In a Sesame Street insert, a group of city residents try striking up conversations with a group of monsters they recently discover to be nice. One Anything Muppet asks the monsters if they like the Yankees. One replies they prefer the Boston Red Sox. (EKA: Episode 1241)
In a Sesame Street insert, Mookie Wilson and Keith Hernandez of the New York Mets teach Snuffy to hit a ball. He becomes so good, he hits a grand slam and it crashes through the window of George Steinbrenner, then manager of the Yankees.
In Sesame Street Episode 3718, Telly Monster yells back to an unseen group of customers in the back of Hooper's Store to check if they want sandwiches. He addresses one customer "You, with the Yankees hat!"
Connections
External links