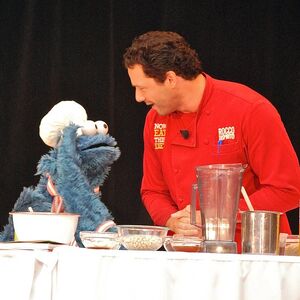 The New York Public Library is a system of libraries in New York City.
Appearances and Exhibitions
On August 3, 2012, Cookie Monster and Rocco DiSpirito appeared at the Stephen A. Schwarzman Building for a cooking demonstration called "Tasty Treats," as part of the "KidsLIVE" Series.
"

Take a bite out of the summer with the sweetest monster in the world, Cookie Monster! Sesame Street's Cookie Monster joins celebrity chef, best selling author and founder of the Now Eat This! food truck,  Rocco DiSpirito at The New York Public Library for a special cooking demonstration for children, where Cookie Monster and the audience will learn how to make healthy cookies, and discover that healthy foods can also be delicious.

"
The New York Public Library for the Performing Arts at Lincoln Center was home to the exhibit "Somebody Come and Play," celebrating Sesame Street's 45th anniversary. The exhibition was housed from September 2014 to January 2015, and featured monthly live events featuring members of the Sesame Workshop team.
External links
Ad blocker interference detected!
Wikia is a free-to-use site that makes money from advertising. We have a modified experience for viewers using ad blockers

Wikia is not accessible if you've made further modifications. Remove the custom ad blocker rule(s) and the page will load as expected.