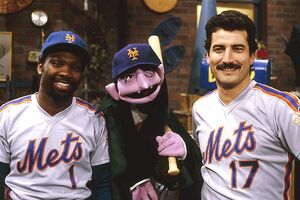 The New York Mets are a professional Baseball team, based in the New York City borough of Queens. As a member of Major League Baseball's National League, the franchise was founded in 1964. The Mets have played in Shea Stadium from 1964-2008. The team currently plays at Citi Field as of 2009.
Appearances
References
In Episode 1575, Herry Monster and Chris explore same and different. They wear Mets hats and red shirts to show how they're the same.
Sources
↑ MLB.com - The Muppets visit Citi Field, 0:31 minute video (2014-08-05)
↑ MLB.com - Gonzo the Great joins EWC, 0:53 minute video (2014-08-07)
↑ MLB.com - Kermit the Frog visits EWC, 9:10 minute video (2014-08-08)
External Links
Ad blocker interference detected!
Wikia is a free-to-use site that makes money from advertising. We have a modified experience for viewers using ad blockers

Wikia is not accessible if you've made further modifications. Remove the custom ad blocker rule(s) and the page will load as expected.