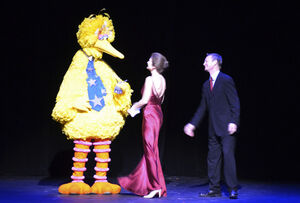 On October 17, 2011, Cheryl Henson was honored with the New Victory Arts Award at the New 42nd Street Gala. The event, dubbed "Puppet Palooza," was hosted by John Tartaglia. Featured performers included Heather Henson, Leslie Carrara-Rudolph with her character Lolly, and Martin P. Robinson with his Sesame Street character Telly Monster. Big Bird (Caroll Spinney) and Bill Irwin (who was the first to receive the honor the previous year) presented the award.
External links
Ad blocker interference detected!
Wikia is a free-to-use site that makes money from advertising. We have a modified experience for viewers using ad blockers

Wikia is not accessible if you've made further modifications. Remove the custom ad blocker rule(s) and the page will load as expected.