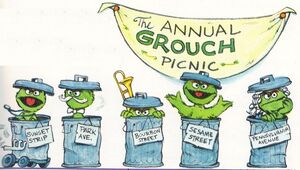 New Orleans is the largest city in the state of Louisiana. Famous for New Orleans Jazz, its celebration of Mardi Gras, French Creole archietecture and cuisine, and the French Quarter, The Muppets have visited or referenced this famous city numerous times.
References
A 1993 episode of Sesame Street reveals that Hoots the Owl used to wait tables at a jazz club in New Orleans when he was younger.
The worm version of New Orleans famed Mardi Gras celebration is Wormy Gras.
Many members of the cast of Sesame Street, as well as Between the Lions, visited New Orleans after hurricane Katrina.
External links
Ad blocker interference detected!
Wikia is a free-to-use site that makes money from advertising. We have a modified experience for viewers using ad blockers

Wikia is not accessible if you've made further modifications. Remove the custom ad blocker rule(s) and the page will load as expected.