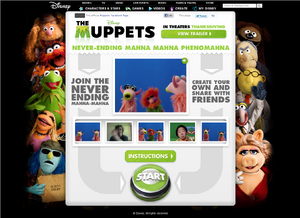 In October 2011, the official Facebook page for the Muppets launched an app that enables users to insert themselves into a "Never-Ending Mahna Mahna Phenomahna". Clips of contributor-recorded segments are edited into new footage of Mahna Mahna and the Snowths to create an ongoing volley of the nonsense lyrics from the song.
Included amongst viewer contributions are clips of Kermit the Frog, Miss Piggy, Fozzie Bear, Animal, Rowlf the Dog, the Swedish Chef, Big Mean Carl, Pepe the King Prawn, Jason Segel, Alan Arkin, Mickey Rooney, Kristen Schaal, Sarah Silverman, Bret McKenzie, Rashida Jones Ken Jeong, Carrie Underwood and Brad Paisley, Leslie Feist, Stana Katic, Eva Longoria, David James Elliott, Kristin Chenoweth, Marisol Nichols, Miriam Shor, and fan-made videos using their own puppets (including several Muppet Whatnot Workshop puppets).
A website, located at MuppetsMahnaMahna.com, was launched to showcase and promote the project.
The app closed in spring 2015.
Ad blocker interference detected!
Wikia is a free-to-use site that makes money from advertising. We have a modified experience for viewers using ad blockers

Wikia is not accessible if you've made further modifications. Remove the custom ad blocker rule(s) and the page will load as expected.