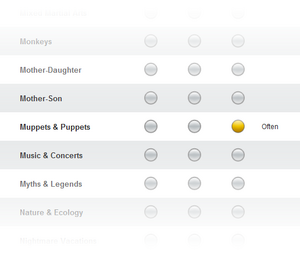 Netflix is a provider of on-demand Internet streaming media and of flat-rate DVD-by-mail. Their DVD video rental service offers many commercially available Muppet and Jim Henson home video releases to US customers, and their "watch instantly" on-demand video streaming service has offered many Muppet titles for viewing on-demand; including several episodes and titles not available on DVD or other platforms.
Netflix also produces original content for its streaming service, such as House of Cards and the fourth season of Arrested Development.
References
US streaming titles
Currently available titles
The following titles are currently available for streaming in the United States:
Past titles
The following titles were available for streaming in the US at some point in the past:
See also
External links
Ad blocker interference detected!
Wikia is a free-to-use site that makes money from advertising. We have a modified experience for viewers using ad blockers

Wikia is not accessible if you've made further modifications. Remove the custom ad blocker rule(s) and the page will load as expected.