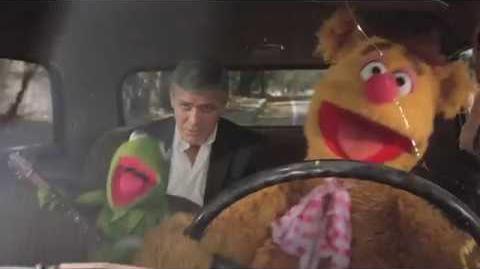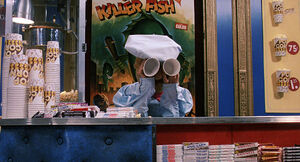 Nestlé is a food and beverage company headquartered in Switzerland.
Nesquik, Nestlé's brand of chocolate-flavored milk, released a pencil case as a promotional tie-in with the release of Labyrinth in 1986.
Jim Henson's Creature Shop created anamatronic squirrels in 1992 for a Nestlé's Nut Clusters commercial that aired in the United Kingdom.
Appearances
In 2017 George Clooney appeared in a commercial for Nespresso (Nestlé's brand of espresso and coffee from coffee capsules) that inserted Clooney into scenes from classic films. The commercial repurposed footage from The Muppet Movie with Fozzie offering Clooney a lift and inserting Clooney into the backseat of the Studebaker with Kermit and Fozzie.
Of appearing in a scene with the characters, Clooney said: "The Muppets - I learned a lot of things from the Muppets. Good acting lessons to learn from the Muppets. They're always happy. You know, they bop their heads like this."[1]
References
Sources