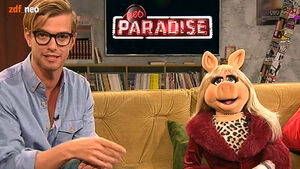 neoParadise is a German TV show, co-hosted by Joko Winterscheidt and Klaas Heufer-Umlauf. The show was produced in Berlin, aired on ZDFneo from 2011 until 2013 and was loosely based on MTV Home, which the duo hosted as well.
On January 26, Miss Piggy appeared on episode 16 to promote Die Muppets; other guests were Sarah Kuttner and Marlon Roudette. In a trailer for the episode, Winterscheidt admitted to have fallen in love with the pig, who in turn swayed back and forth between being attracted to, and being weirded out by the host. Co-host Heufer-Umlauf simply creeped her out.
External links
Ad blocker interference detected!
Wikia is a free-to-use site that makes money from advertising. We have a modified experience for viewers using ad blockers

Wikia is not accessible if you've made further modifications. Remove the custom ad blocker rule(s) and the page will load as expected.