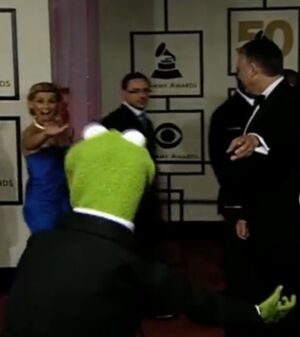 Nelly Furtado (b. 1978) is a Grammy Award-winning Portuguese-Canadian singer/songwriter, whose hits include "I'm Like a Bird."
In 2008, Furtado was one of several celebrities at the Grammy Awards red carpet event, as seen in a Disney Xtreme Digital video hosted by Kermit the Frog and Pepe the King Prawn. Kermit calls out her name and tries to interview Furtado, but she only has time to wave her hand at Kermit.
External links
Ad blocker interference detected!
Wikia is a free-to-use site that makes money from advertising. We have a modified experience for viewers using ad blockers

Wikia is not accessible if you've made further modifications. Remove the custom ad blocker rule(s) and the page will load as expected.