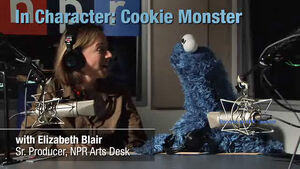 National Public Radio (NPR) is a semi-independent, privately and publicly funded non-profit membership media organization that serves as a national syndicator to public radio stations in the United States. Its President and CEO from 2011 to 2013 was Gary Knell, formerly of Sesame Workshop.
NPR was created in 1970, following congressional passage of the Public Broadcasting Act of 1967, signed into law by President Lyndon Johnson, which established the Corporation for Public Broadcasting and also led to the creation of the Public Broadcasting Service.
Its two flagship programs on weekdays are Morning Edition and its afternoon equivalent, All Things Considered, both of which have had Muppets as guests, as has Tell Me More.
Appearances
The Diane Rehm Show: Michael Davis appeared on The Diane Rehm Show in January 2009 to talk about his book documenting the history of Sesame Street, Street Gang.
Talk of the Nation: April 3, 2006 segment about Sesame Beginnings. Rosemarie Truglio defends the programs. [2]
Ad blocker interference detected!
Wikia is a free-to-use site that makes money from advertising. We have a modified experience for viewers using ad blockers

Wikia is not accessible if you've made further modifications. Remove the custom ad blocker rule(s) and the page will load as expected.