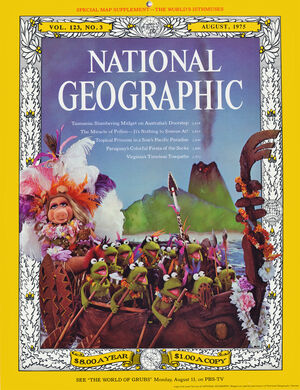 National Geographic (originally known as National Geographic Magazine) is the official journal of the National Geographic Society, and is recognizable by its yellow frame on the front cover. First published in 1888, the journal comes out monthly, containing articles covering history, culture, geography, science, and photography. They have gone on to produce multiple television specials and series, as well as feature films, including the 2005 Academy Award-winning documentary March of the Penguins.
The magazine was referenced in The Miss Piggy Cover Girl Fantasy Calendar with the August entry "Pearls Cast Upon the Pacific".
The National Geographic Television & Film's Kids' Programming and Production unit and Sesame Workshop had occasionally partnered together. In 1993, National Geographic created the video series "Really Wild Animals" which starred Dudley Moore as the voice of Spin the Glob.
In 1995, National Geographic and Muppet Babies voice director Hank Saroyan created "Geo-Kids."
In 2004, planning to produce a one-hour, primetime special with Ernie and Bert, filmed on location in South Africa and a location in South America. To be released on TV in the "fourth quarter of 2005 and a home video to follow," nothing ever materialized. The project was said to be inspired by the Global Grover segment. In 2008, similarly-themed National Geographic animated series Toot and Puddle debuted.
In 2006, the Indian National Geographic Channel commissioned five one-hour films of Galli Galli Sim Sim; it is unknown whether they were produced. In 2009 for season 40, National Geographic ran an article about the show's environmental curriculum. As of 2010, Sesame Workshop executive Gary Knell is on the Board of Governors of the National Geographic Education Foundation.
External links