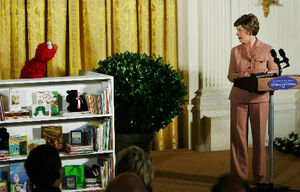 The National Book Festival is organized and sponsored by the Library of Congress and hosted by First Lady Laura Bush.
On September 30, 2006, the 6th National Book Festival started with a breakfast at the White House, hosted by Mrs. Bush. Elmo welcomed the guests and introduced the First Lady. Kevin Clash spoke about his book My Life as a Furry Red Monster at the event.
External links
Ad blocker interference detected!
Wikia is a free-to-use site that makes money from advertising. We have a modified experience for viewers using ad blockers

Wikia is not accessible if you've made further modifications. Remove the custom ad blocker rule(s) and the page will load as expected.