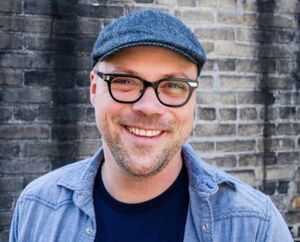 Nathan Tysen is a lyricist who, with composing partner Chris Miller, has written songs for Sesame Street from 2011 (Season 42) to 2013 (Season 43). Tysen co-wrote lyrics (with different staff writers) to several songs, including all of the songs in the Elmo the Musical segment "Cowboy the Musical."
Tysen and Miller had previously written songs for the revival of The Electric Company. Most of their work had been for the stage, however, with Tysen writing lyrics to Miller's score for the musical Tuck Everlasting (which opened on Broadway in April 2016). Off-Broadway, they wrote songs for Burnt Park Boys and the limited engagement revue Fugitive Songs. They've also written songs for the Ringling Bros. and Barnum & Bailey Circus. Without Miller, Tysen co-wrote and performed songs for the 2010 children's CD It's a Storytime Jam.
Songs
music for all by Chris Miller
External links
Ad blocker interference detected!
Wikia is a free-to-use site that makes money from advertising. We have a modified experience for viewers using ad blockers

Wikia is not accessible if you've made further modifications. Remove the custom ad blocker rule(s) and the page will load as expected.