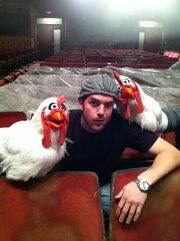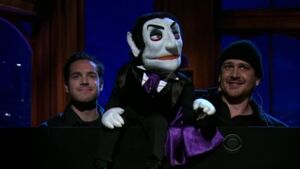 Nathan Danforth is a puppeteer who has performed on The Late Late Show with Craig Ferguson, Avenue Q National Tour Commercial, and with a puppet company called Swazzle. Danforth was an additional Muppet performer for The Muppets.
In 2010, Danforth performed with Jason Segel on the 1000th episode of The Late Late Show, where the duo sang and puppeteered a version of "Dracula's Lament" from Segel's hit film Forgetting Sarah Marshall. He was then asked to build a short puppet segment for the television series How I Met Your Mother.
Soon after, Danforth was given a role as additional puppeteer with The Muppets, chiefly puppeteering Sweetums whenever Matt Vogel was performing another character; this includes the scene where Sweetums runs after the Rolls Royce leaving Mad Man Mooney's and Son, and in the "Rainbow Connection" sequence. He also operated The Swedish Chef in the scene where Kermit is pitching the telethon to CDE.
Danforth also appears on camera with unit production monster J. G. in an Easter Egg ("J. G. Talks About Permits") on the blu-ray release of The Muppets.
External links