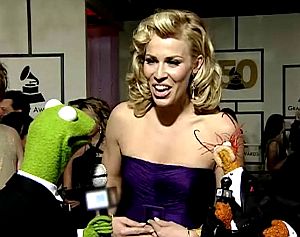 Natasha Bedingfield (b. 1981) is a Grammy-nominated British pop singer/songwriter, known for her 2008 album Pocket Full of Sunshine.
She appeared in a February 2008 Disney Xtreme Digital video with Kermit the Frog and Pepe the King Prawn during the Muppets' coverage of the Grammy Awards ceremony. She cheerfully announced that of all the stars present, she was most nervous about meeting Kermit.
In 2009, Bedingfield appeared alongside Abby Cadabby, Big Bird, Cookie Monster, Elmo, Oscar, and Rosita on the annual special A Capitol Fourth to perform "Sing", "Yankee Doodle Boy", and "You're a Grand Old Flag" with the group. The show was taped twice (on July 3, and again live on July 4) for fear of rain on the actual holiday.
External links
Ad blocker interference detected!
Wikia is a free-to-use site that makes money from advertising. We have a modified experience for viewers using ad blockers

Wikia is not accessible if you've made further modifications. Remove the custom ad blocker rule(s) and the page will load as expected.