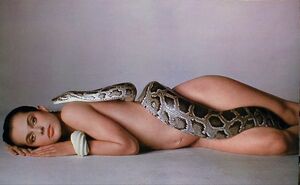 Nastassja Kinski (b. 1961) is a German-born American-based actress.
In 2008, photographer Mike Ruiz paid homage to her famous 1981 portrait "Nastassja Kinski and the Serpent" by the late photographer Richard Avedon, when he photographed a nude Miss Piggy in the same pose.
Coincidentally, Kinski had previously appeared topless on the flipside of a 1980 Miss Piggy poster in German pop-culture/teen magazine POP/Rocky.
External links
Ad blocker interference detected!
Wikia is a free-to-use site that makes money from advertising. We have a modified experience for viewers using ad blockers

Wikia is not accessible if you've made further modifications. Remove the custom ad blocker rule(s) and the page will load as expected.