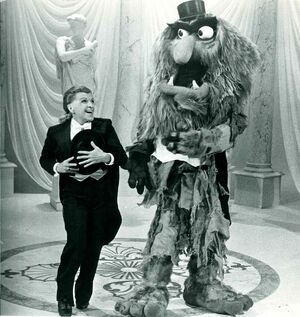 Nancy Walker (1922-1992) was a comedienne and actress most famous for her role as Valerie Harper's mother on the sitcom Rhoda. She was the guest star on The Muppet Show episode 206.
Broadway credits include On the Town, Sondheim: A Musical Tribute, Pal Joey and The Cherry Orchard. On TV, Walker guest starred on The Golden Girls, Newhart, Fame, Columbo, Saturday Night Live, Cher, The Love Boat and Happy Days.
Walker's other career highlights include playing the deaf-mute maid in the mystery spoof Murder By Death and directing the 1980 movie musical Can't Stop The Music, starring the Village People. She died of cancer on March 25, 1992.
External links
Ad blocker interference detected!
Wikia is a free-to-use site that makes money from advertising. We have a modified experience for viewers using ad blockers

Wikia is not accessible if you've made further modifications. Remove the custom ad blocker rule(s) and the page will load as expected.