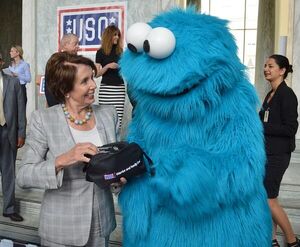 Nancy Pelosi (b. 1940) is the Minority Leader of the United States House of Representatives and served as the 52nd Speaker of the United States House of Representatives from 2007 to 2011. She is the only woman to have served as the House Speaker and to date is the highest-ranking female politician in American history.
In May 2014, Pelosi appeared on Capitol Hill with Sesame Street characters from the USO Experience for Military Families stage show.
Ad blocker interference detected!
Wikia is a free-to-use site that makes money from advertising. We have a modified experience for viewers using ad blockers

Wikia is not accessible if you've made further modifications. Remove the custom ad blocker rule(s) and the page will load as expected.