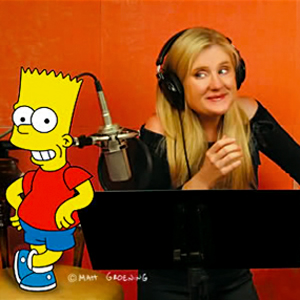 Nancy Cartwright (b. 1957) is a voice actress best known as Bart Simpson on The Simpsons. She performed with her Simpsons co-stars in the celebrity version of "Monster in the Mirror".
In becoming a voice-over artist for animation, she was mentored by Daws Butler, famous for his work with Hanna-Barbera. It was there where she began her professional voice acting career (playing Gloria in the studio's animated adaptation of Richie Rich) and since then her credits have included Who Framed Roger Rabbit, Animaniacs, The Critic and Rugrats. In live action, she has appeared in Twilight Zone: The Movie, the 1998 remake of Godzilla (with Simpsons co-stars Harry Shearer and Hank Azaria), Cheers, and The Fresh Prince of Bel-Air.
External links
Ad blocker interference detected!
Wikia is a free-to-use site that makes money from advertising. We have a modified experience for viewers using ad blockers

Wikia is not accessible if you've made further modifications. Remove the custom ad blocker rule(s) and the page will load as expected.