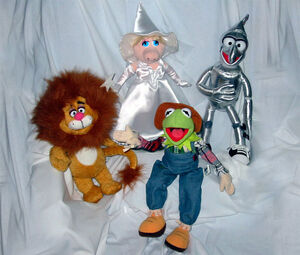 Four plush dolls were released by Nanco in conjunction with the television broadcast of The Muppets' Wizard of Oz: The Scarecrow, Tattypoo, Tin Thing and the Cowardly Lion.
The plush were exclusive to only one Macy's department store, in New York City, the same location at which window displays for the TV movie could be seen. They have since been sporadically available, like other Nanco plush, in skill machines as prizes.
Ad blocker interference detected!
Wikia is a free-to-use site that makes money from advertising. We have a modified experience for viewers using ad blockers

Wikia is not accessible if you've made further modifications. Remove the custom ad blocker rule(s) and the page will load as expected.