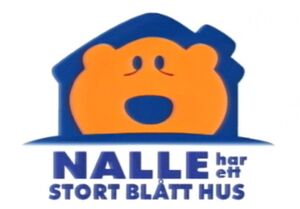 Nalle har ett Stort Blått Hus is the Swedish dub of Bear in the Big Blue House. It was first shown on SVT and have been in re-run regulary on that channel, and have been shown on the Scandinavian version of Disney Channel since the launch of it. It should be noted that, in the theme, the characters actually sing the title of the show.
Translations and Voices
Additional Voices
Jasmine Heikura
Sebastian Paulsson
Gunnar Ernblad
Mikaela Ardai Jennefors (uncredited)
Amanda Jennefors (uncredited)
Norea Sjöquist (uncredited)
Simon Sjöquist (uncredited)
Zac Bladh (uncredited)
Additional Credits
Translation: Vicki Benckert and Gunnar Ernblad
Producer: Lasse Svensson
Project Leader: Annika Rynger
Studio: Eurotoll AB
Sound engineer: Patrik Ström, Bjarne Lundgren, Måns Eriksson, Jörn Saver
Sound Mix: Måns Eriksson
Ad blocker interference detected!
Wikia is a free-to-use site that makes money from advertising. We have a modified experience for viewers using ad blockers

Wikia is not accessible if you've made further modifications. Remove the custom ad blocker rule(s) and the page will load as expected.