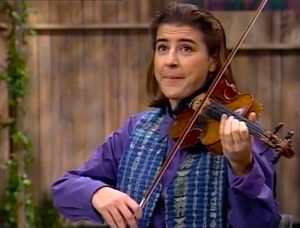 Nadja Salerno-Sonnenberg (b. 1961) is a violinist who trained at the Curtis Institute of Music and the Juilliard School of Music. She became well known for making several appearances on The Tonight Show with Johnny Carson.
She appeared on Sesame Street in Episode 3580 to help Big Bird and Miles go through their emotions over a missing baseball.
External links
Ad blocker interference detected!
Wikia is a free-to-use site that makes money from advertising. We have a modified experience for viewers using ad blockers

Wikia is not accessible if you've made further modifications. Remove the custom ad blocker rule(s) and the page will load as expected.