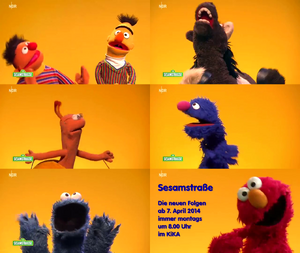 Norddeutscher Rundfunk, commonly abbreviated as NDR, is a German broadcasting company (both television and radio), based in Hamburg and part of the larger ARD consortium. has its roots in the earlier NORAG and has existed as NDR since 1956. Since 1973, it has been the primary broadcaster of Sesamstrasse and aired many of the specials and spinoffs.
Over the years, many NDR employees, including reporters and actors, have appeared as themselves on Sesamstrasse. The sketch series "Ernie und Bert Go Music" had Bert and Ernie meeting the members of the NDR symphony orchestra.
Programming
External links
Ad blocker interference detected!
Wikia is a free-to-use site that makes money from advertising. We have a modified experience for viewers using ad blockers

Wikia is not accessible if you've made further modifications. Remove the custom ad blocker rule(s) and the page will load as expected.