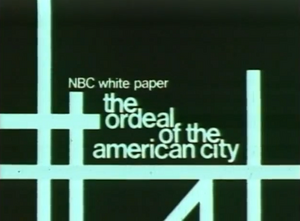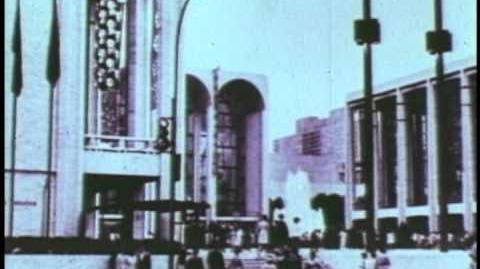 NBC White Paper was an acclaimed series of NBC news specials. The program had no regular timeslot but aired a few times each year, presenting detailed documentary coverage of specific events.
In the fall of 1968, Fred Freed produced the three-part "Ordeal of the American City," which focused on domestic issues. Jim Henson prepared the opening sequence, featuring "a juxtaposition of urban images -- traffic, industry, fires, riots."[1]
"

After the success of Jim's documentary "collage" for NBC about modern society Youth 68 aired, NBC News commissioned him to create the title sequence for a special on the state of American cities: NBC White Paper: Ordeal of The American City. Jim layered rapidly changing images to depict the rush, vibrancy, and pressure of city living, combining it with animation and a soundtrack of urban noises. He used visuals that alluded to the increasing tensions between Americans in a decade of riots, social neglect, poverty, and heated public debates about urban renewal. In a brief arrangement of images and sounds, Jim was able to set the tone for the program.

"


—Curated entry from Jim Henson's Red Book[2]
Sources
↑ Bam! Muppets Music & Magic event, Commercials and Experiments screening, 2004. ToughPigs write-up
↑ Jim Henson's Red Book - 9/10/1968 – 'Opening Title for NBC – "The Ordeal of The American City".'
External links
Ad blocker interference detected!
Wikia is a free-to-use site that makes money from advertising. We have a modified experience for viewers using ad blockers

Wikia is not accessible if you've made further modifications. Remove the custom ad blocker rule(s) and the page will load as expected.