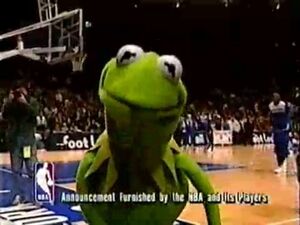 The National Basketball Association (NBA) is the pre-eminent men's professional basketball league in the United States which consists of thirty franchised member clubs, of which twenty-nine are located in the United States and one in Canada.
In 1992, Kermit the Frog appeared in a commercial for the NBA "I Love This Game" campaign. In the commercial, Kermit is at one of the NBA games while dancing and lip-synching to the Muppet Show recording of "Happy Feet". As he sings, the commercial also plays video footage of NBA players, fans, and mascots. Other celebrities that also appeared in commercials for the "I Love This Game" campaign include Chris Rock and Spike Lee.[1]
Kermit and Miss Piggy also appeared in a commercial with Julius Erving for the NBA Finals in June 2005.
See also
Sources
Ad blocker interference detected!
Wikia is a free-to-use site that makes money from advertising. We have a modified experience for viewers using ad blockers

Wikia is not accessible if you've made further modifications. Remove the custom ad blocker rule(s) and the page will load as expected.