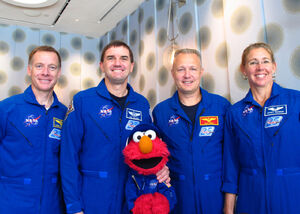 NASA Tweetups (re-branded NASA Socials in 2012) are events hosted by NASA to promote the agency's missions through social media. Elmo attended the NASA Tweetup on July 7-8, 2011 for what would be the final launch of Space Shuttle Atlantis.
Elmo appeared at Cape Canaveral, Florida speaking with astronauts Leland Melvin, Mike Massimino and Douglas H. Wheelock for a press event, and tweeted updates on the Sesame Street Twitter account.
Upon Atlantis's return, Elmo welcomed the crew of STS-135 to the "What's Your Favorite Space?" event at the Eventi Hotel in New York City on August 17th. The hotel's "Big Screen Plaza" housed a miniature space outpost with an inflatable Mars Rover, and various activities hosted by Elmo and mission commander Chris Ferguson.[1]
Videos
Photo ops
Interviews
Tweets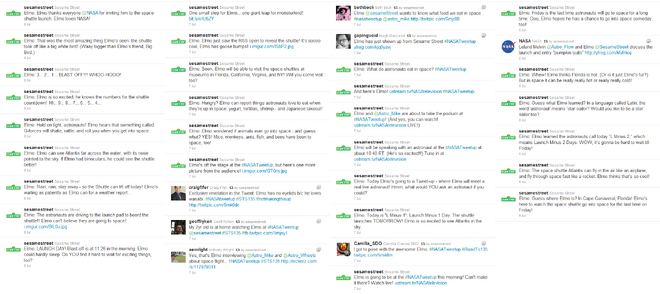 Sources
↑ Space Shuttle Program Facebook August 18, 2011
Ad blocker interference detected!
Wikia is a free-to-use site that makes money from advertising. We have a modified experience for viewers using ad blockers

Wikia is not accessible if you've made further modifications. Remove the custom ad blocker rule(s) and the page will load as expected.