My Life as a Furry Red Monster
Talk

1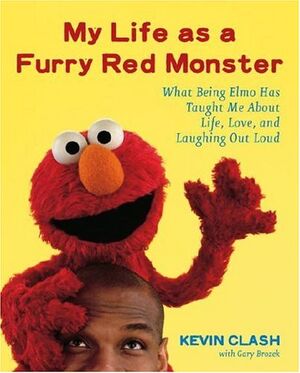 My Life as a Furry Red Monster: What Being Elmo Has Taught Me About Life, Love and Laughing Out Loud is an inspirational autobiography written by Muppeteer Kevin Clash.
Official summary
| | | |
| --- | --- | --- |
| " | This inspiring memoir invites readers on the remarkable journey that Kevin has been on since Elmo's rise to fame. As an ambassador bringing joy to children all over the world, Kevin has met heads of state and worked with stars like Robert De Niro, Jim Carrey, and Mel Gibson. With full-color photographs of the pair at work and play, this book is a treat for the eye as well as the heart. No one who reads of Kevin's regard for his mentor, the late Jim Henson, or of Elmo's bedside visits to the children of the Make a Wish Foundation will be able to deny the poignant impact of My Life as a Furry Red Monster. | " |
Content
Welcome to "Elmo's World" - and My World Too (pg 1)
Chapter 1: Love (pg 7)
Chapter 2: Joy (pg 37)
Chapter 3: Creativity (pg 61)
Chapter 4: Tolerance (pg 89)
Chapter 5: Courage (pg 109)
Chapter 6: Friendship (pg 129)
Chapter 7: Cooperation (pg 149)
Chapter 8: Learning (pg 171)
Chapter 9: Optimism (pg 191)
Acknowledgments (pg 209)
Audio book
Events & publicity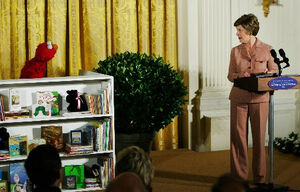 *
When the book was released in Japan in 2008, Clash appeared at an event at a Books Kinokuniya in Marunouchi, Chiyoda-ku, Tokyo. He appeared to meet the public, signing pictures for the first 50 people. A costumed character of Elmo appeared to meet the public.
Reviews
| | | |
| --- | --- | --- |
| " | This delightful book illuminates a man's journey from child to parent, student to teacher, puppeteer to Muppeteer, and reveals to us who our favorite red furry monster really is—a gifted, humane, empathetic entertainer named Kevin Clash. His book is a meditation on the things that really matter—to Elmo and to all of us. | " |
---
| | | |
| --- | --- | --- |
| " | It should come as no surprise that the man behind America's most beloved red furball is as wise, warm, witty, and wonderful as Elmo himself. My Life as a Furry Red Monster is an entertaining sneak peek at the life and times of one of the most endearing and enduring characters ever created | " |
---
| | | |
| --- | --- | --- |
| " | In lively and wonderfully written prose, Kevin tells the story of how he came to be the most popular educator and entertainer of children in the country. His riveting tale weaves together the adventures, idealism, love, and optimism that Kevin has experienced both as himself and as a furry red monster. | " |
---
| | | |
| --- | --- | --- |
| " | Kevin has given life and breath to one of the most beloved characters in contemporary pop culture. His heart and soul radiate not only through Elmo, but up and down Sesame Street, through this book, and around the world. Not only is Kevin a brilliant artist, but he's a fabulous human being as well. | " |
---
| | | |
| --- | --- | --- |
| " | An inspiring success story of an amazing puppeteer who created the beloved character of Elmo. Even though I've worked on Sesame Street for 37 years, I learned things from Kevin's book that even I didn't know before. I loved it. | " |
---
| | | |
| --- | --- | --- |
| " | Kevin Clash has been an inspiration to me as a mentor and a human being. I'm glad this book allows him to share his kindness, humor and fascinating life journey with the rest of the world! | " |
---
| | | |
| --- | --- | --- |
| " | The first time I met Elmo, I knew there was something special that lived inside of him! His name is Kevin. And there is no one more kind, thoughtful or intelligent. Congratulations on a wonderful book and a wonderful life! | " |
---
| | | |
| --- | --- | --- |
| " | Who would have thought that a Furry Red Monster and an African American man would find happiness and great success as the high-pitched voice for a younger generation. Well, as Kevin Clash so cleverly shares in this new telling of The American Dream, miracles do happen, and for the right reasons. With great candor and humor, he shares his story and what he's learned about life, love, and laughing out loud. Lucky us. | " |
---
| | | |
| --- | --- | --- |
| " | When things get tense or testy on the studio floor—and they always do in TV—Elmo's ad-libs are what generally brings everything around. It's weird—you just have to crack up at this little creature who is rising up out of Kevin's shoulder. | " |
External links