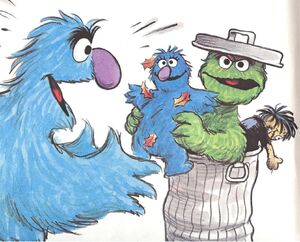 My Doll Is Lost! is a 1984 Sesame Street storybook featuring Herry Monster.
Herry receives an invitation in the mail for a tea party. The letter also instructs the invitees to bring their favorite doll. Herry skips to Betty Lou's house and discovers she has been invited too, but he realizes he has lost his doll. Betty Lou and the rest of the Sesame Street gang go off to help Herry find it, but it is Oscar the Grouch who has found it, and has been keeping it in his trash can.
The doll that Herry searches for is not Hercules, nor does Big Bird bring Radar to the tea party.
Characters
Herry Monster
Betty Lou
Big Bird
Oscar the Grouch
Translations
Ad blocker interference detected!
Wikia is a free-to-use site that makes money from advertising. We have a modified experience for viewers using ad blockers

Wikia is not accessible if you've made further modifications. Remove the custom ad blocker rule(s) and the page will load as expected.