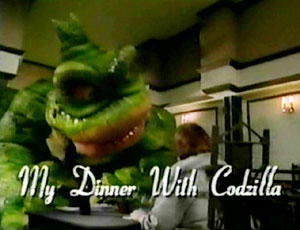 My Dinner with Andre is a 1981 film directed by Candice Bergen's husband Louis Malle, and starring Wallace Shawn and Andre Gregory, both of whom also wrote the script. The film depicts a conversation between the two acquaintances in a restaurant in New York City. The film was spoofed with a sketch in episode 101 of The Jim Henson Hour, a faux movie preview for "My Dinner with Codzilla," with Louie Anderson and Codzilla having dinner.
External links
Ad blocker interference detected!
Wikia is a free-to-use site that makes money from advertising. We have a modified experience for viewers using ad blockers

Wikia is not accessible if you've made further modifications. Remove the custom ad blocker rule(s) and the page will load as expected.