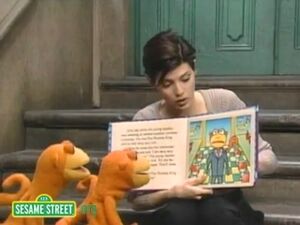 My Cousin Vinny is a 1992 comedy film about Vincent Gambini (played by Joe Pesci), a lawyer who tries to defend a New York couple accused of murder. Marisa Tomei won an Academy Award for Best Supporting Actress.
References
In a Sesame Street sketch, Marissa Tomei reads the story of "The Banana King" to Joey and Davey Monkey. When she shows them an image of the king-turned-monkey, they claim he looks like their cousin Vinny.
Connections
Ad blocker interference detected!
Wikia is a free-to-use site that makes money from advertising. We have a modified experience for viewers using ad blockers

Wikia is not accessible if you've made further modifications. Remove the custom ad blocker rule(s) and the page will load as expected.