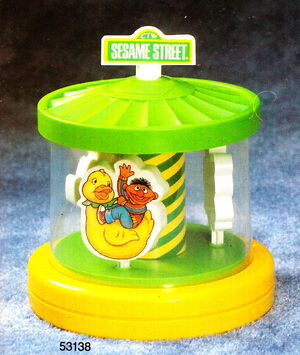 Musical Merry-Go-Round is a Sesame Street toy made in 1982 by CBS Toys. When the Sesame Street sign is wound, the "Playmate" tune is played, and three characters move up and down as they ride around the track.
The description in the 1984 Child Guidance/Gabriel Wonder catalog explains that the merry-go-round is "enclosed in clear plastic to protect little fingers and encourage kids to see through to a miniature amusement park world."
Ad blocker interference detected!
Wikia is a free-to-use site that makes money from advertising. We have a modified experience for viewers using ad blockers

Wikia is not accessible if you've made further modifications. Remove the custom ad blocker rule(s) and the page will load as expected.