Music of the Street
Talk

0
26,858pages on
this wiki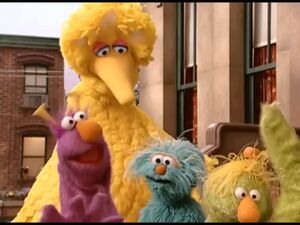 "Music of the Street" is a Sesame Street song from a 2004 episode.
Big Bird, Gabi and Miles sing the song to Rosita to show her that their street is full of different ways of speaking and she shouldn't feel bad about the way she speaks.
The song features appearances by Count von Count, Oscar the Grouch, a Honker, a Dinger, a Cowboy with a Drawl, the White Rabbit, a turtle, Alfred Duck, an opera singer and the Martians.