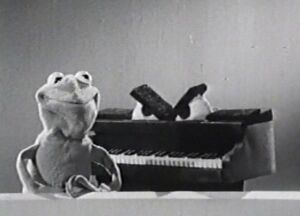 Kermit plays the piano as monsters (a Snerf, a different version of Splurge and another monster) come up to it. Kermit plays "Tea for Two" and "You Must Have Been a Beautiful Baby" to calm them down and send them away. At the end, once Kermit thinks he's home free, his piano comes alive and eats him.
This sketch was performed by Kermit in a tux on The Ed Sullivan Show and The Hollywood Palace. Kermit also performed the sketch on another program (pictured) in his classic form, without clothes.
Ad blocker interference detected!
Wikia is a free-to-use site that makes money from advertising. We have a modified experience for viewers using ad blockers

Wikia is not accessible if you've made further modifications. Remove the custom ad blocker rule(s) and the page will load as expected.