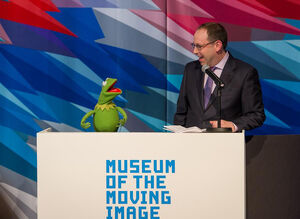 The Museum of the Moving Image (MOMI) is a media museum located in Astoria, Queens in a former building of what is now the Kaufman Astoria Studios. The museum originally opened in 1988 as the American Museum of the Moving Image.
The museum hosted Jim Henson's Fantastic World from July 2011 to March 2012, and will house a permanent Henson exhibit opening sometime in 2016.
Special events and screenings
The Muppet Movie presented by Craig Shemin (Austin Pendleton was originally schedule to appear) [1]
"Muppet History 101" presented by Craig Shemin [2]
"'Hands Up! Heads Down!': An Inside Look at Puppetry for Television" presented by Craig Shemin and Lara MacLean [3]
The Muppets Take Manhattan presented by costume designer Calista Hendrickson and storyboard artist John Davis [4]
"Dog City and The Storyteller: "The Soldier and Death" presented by Fran Brill [5]
"Jim Henson: Friends and Family" a roundtable conversation with Cheryl Henson, Bonnie Erickson, Craig Shemin, Fran Brill, Arthur Novell, and Karen Falk, featuring rare archival clips [6]
Special Preview Screening of The Muppets [9]
Labyrinth followed by a Q&A with Brian Henson, Brian Froud, Wendy Froud, and Toby Froud [10]
"The Evolution of Puppetry" a presentation by Brian Henson [11]
"A Muppet Family Christmas and A Classic Henson Holiday" [13]
"Jim Henson and Friends: Inside the Sesame Street Vault" [14]
"Sing-along with The Muppet Movie" presented by Heather Henson [15]
"Jim Henson's Fantastic World Special Closing Program" special video compilations presented by Craig Shemin and Karen Falk [16]
"Children and Television: An Evening with Joan Ganz Cooney" moderated by Lesley Stahl of 60 Minutes [17]
"A Tribute to Jerry Nelson" with Bill Barretta, Matt Vogel, Fran Brill, Dave Goelz, Louise Gold, Craig Shemin, Stephanie D'Abruzzo, Bonnie Erickson, and others. [18]
"Imagination Illustrated: The Jim Henson Journal" a presentation by Karen Falk [19]
The Muppet Movie followed by a Q&A with Paul Williams and Kenny Ascher [20]
"Celebrating Jim Henson: The Biography," panel discussion and book signing with author Brian Jay Jones, Fran Brill, Dwight Bowers, Bonnie Erickson, Karen Falk, Barbara Miller, and Craig Shemin [21]
Emmet Otter's Jug-Band Christmas screening and a tribute to Faz Fazakas and Diana Birkenfield [23]
"The Muppets Character Encyclopedia" trivia contest with video clips, hosted by author Craig Shemin, followed by a book signing [24]
Special Preview Screening of Muppets Most Wanted [25]
Another screening of Muppets Most Wanted, with a special appearance by Constantine</small>
"The Tale of the Bunny Picnic and Other Bunny Stuff" [26]
"Behind the Seams" - a compilation of excerpts from various behind-the-scenes documentaries, guest appearances, and interviews with Jim Henson [27]
The Muppets Take Manhattan 30th anniversary screening [28]
The Muppets Go Hollywood and The Muppets Go to the Movies screenings [29]
The Muppets Celebrate Jim Henson and rare Jim Henson television appearances [30]
Labyrinth, introduced by Brian and Wendy Froud [31]
"Sesame Street: The Parodies" - compilation of Sesame Street song, film, and television parodies) [32]
A Classic Henson Holiday featuring A Muppet Family Christmas [33]
"The Muppet Show: Entertainment Legends" Episode 314: Harry Belafonte, Episode 305: Pearl Bailey, Episode 424: Diana Ross [34]
"Miss Piggy: A Sow is Born" - compilation of various Miss Piggy appearances from The Muppet Show, Muppet movies and specials, and rare television appearances [35]
"Henson in High Definition: The Early Years" - Craig Shemin and Karen Falk host a series of clips from early in Jim Henson's career that had recently been transferred to high definition from original source materials [36]
Jim Henson gallery
In May 2013 — at an event hosted by New York City Mayor Michael Bloomberg, Miss Piggy, Oscar the Grouch and Gobo Fraggle — it was announced that The Jim Henson Legacy had donated almost 400 artifacts to MOMI for a permanent gallery devoted to Jim Henson. The city of New York contributed $2.75 million for construction of the gallery, which will include puppets, costumes, props, film clips, and other artifacts.[1]
At the time of announcement, the exhibit was expected to open to the public in winter 2014-2015. It was later stated that the exhibit would open in late 2015, and was pushed back again to sometime in 2016.[2]
Sources
↑ Jim Henson's World at Movingimage.us.
External links