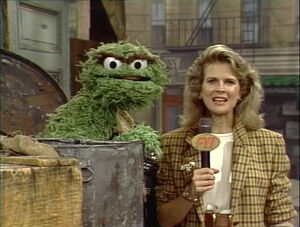 Murphy Brown was a sitcom starring Candice Bergen as an investigative journalist and anchorwoman. The show aired on CBS from 1988 to 1998. The show became quite political in nature, even drawing the ire of Vice President Dan Quayle when Murphy Brown chose to become a single mother. The character of Murphy Brown was listed by Bravo as number 51 on its list of the 100 Greatest TV Characters.
Bergen appeared in character on Sesame Street as Murphy Brown, and interviewed Oscar the Grouch.
Muppet Mentions
In the episode "It's Not Easy Being Brown" (a reference to Kermit the Frog's signature song, "Bein' Green"), Murphy hires a new publicist that gets her a guest spot on a Sesame Street-style show. "Kelbo" (performed by Wally Wingert) and "Murphy Brown Bear" (performed by Lisa Sturz) mock the short-tempered Murphy until she tries to attack the puppets on camera, thus ruining her attempt to change her image.
References
Candace Bergen voiced her Murphy Brown Muppet caricature, Murphy Brownbag on an episode of Sesame Street.
Connections